Best Selling Author Package
Want To Become a Best Selling Author?
Click the button below to access the "Best Selling Author Formula" video training!
Twelve (12) Private, One-on-One 60 min pre-scheduled Coaching Sessions with Megan (or 30 min sessions) – Megan will give you that jumpstart you need to start identifying your stuck points and identifying negative thoughts that keep you from moving forward. Calls to be pre-scheduled to keep you on track and hold you accountable.
Two (2) Emergency Calls with Megan per month (15 minutes) –  Personal one-on-one mentoring calls with Megan to ask any questions about homework assignments, etc! You have Megan's cell and can text or call anytime, emergency calls can be 5-15 minutes to answer a specific question or get support with a specific thing.
Unlimited Email Access with Megan– Megan will offer recommendations and advice when needed on any material given during sessions, stations that may arise between sessions, etc.

Resources, worksheets and more from Megan's personal files – You will receive handouts, guides, activities, etc. through the 6 months of working with Megan.  You will also receive 4 eBooks as well (Gratitude Journal, 365 Affirmations, Medication Kick Start Kit and Self-Limiting Beliefs). You can use the unlimited email or ER calls if questions arise about the resources given in between sessions
Megan will connect you with an editor, layout designer and book cover designer (you do not need to use these people it is just a recommendation)

Megan will create a press release for you

Megan will connect you with podcast hosts who will book you for podcast interviews 1-2 months before your book is published

Megan will assist you with uploading your book to Create Space and KDP (sites used by Amazon)

Megan will help you create a social media promotion schedule and content

Megan will help you create a Book launch Team

Megan will promote your book on her social media platforms
Want access to some of my secrets, tips and strategies?
Then click the button below!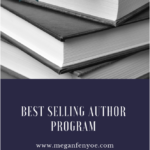 Want more information about this program?
Book your free 20 minute Introductory Call with me!
We can determine if this program is right for you and we'll explore what is possible for you.  We can also discuss ways that I can help support you!  Just click on the link below! 
Subscribe to our Email List to Receive Tips, Upcoming Events and More!